Leading Courageous Conversations About Race and Faith in America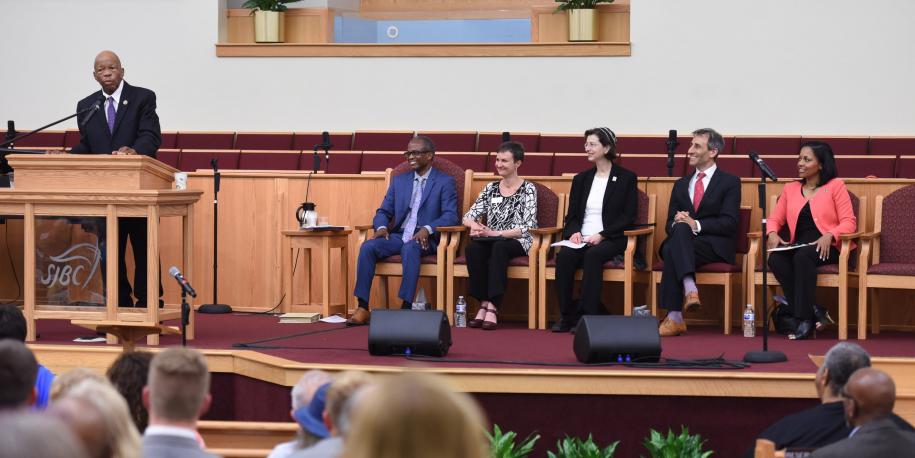 "Diversity is not our problem—it is our promise!"
Rep. Elijah Cummings
In 2017, Representative Elijah Cummings had grave fears about the future of United States democracy. The recent election had polarized the country. Having been active in the Civil Rights movement as a young man, Rep. Cummings recognized the same ugly divisions he fought in that tumultuous era of change.
Talking to Maryland State Representative Vanessa Atterbeary and Reverend Dr. Robert A.F. Turner, senior pastor of St John Baptist Church of Columbia, Maryland, Rep. Cummings urged his trusted colleagues to find some way to halt the rapid unraveling of the social fabric—to heal their diverse community.
That meeting inspired a proposal. What if they addressed the growing divides by inviting religious leaders and their congregations to have tough but civil and meaningful conversations about patriotism, religion, and race?
"For us to heal the fissures in our community, we needed to learn how to connect across differences, listen to one another, and understand one another more profoundly," said Reverend Dr. Turner. "We have to repair the broken trust that makes a community—and a democracy—possible."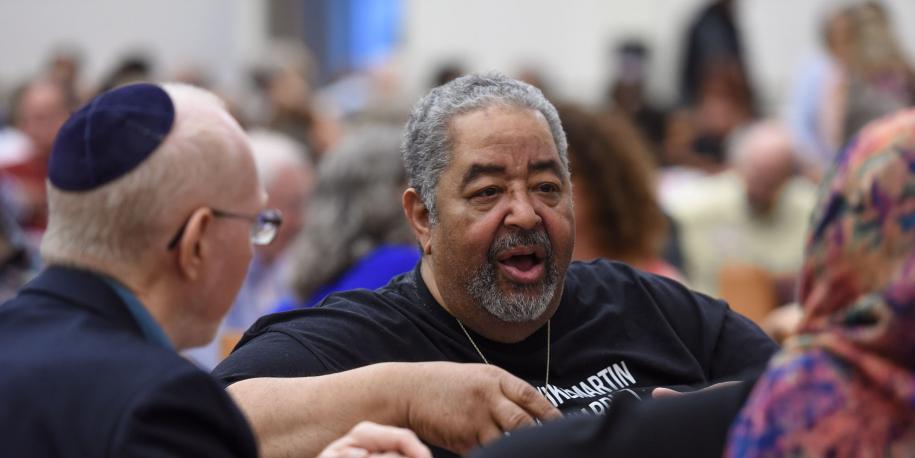 Courageous Conversations
The Howard County Courageous Conversations project comprises clergy and congregants from 52 faith communities. The mission is to learn from and hear other perspectives, to explore how residents live together in their experiences of race and religious bias.
The overarching theme addresses the question, "How do we work towards creating a connected community of different people rather than a community that lets different people in?"
With initial support from the Horizon Foundation, Essential Partners has collaborated with the faith and civic leaders of Howard county since 2017 to design robust, expansive, inclusive public dialogues, while training dozens of volunteer facilitators to lead those courageous conversations.
"With the skillful help of EP's practitioners," said co-founder Reverend Paige Getty, "we trained dozens of local volunteers to facilitate dialogues about faith, race, and prejudice in our community. Hundreds of residents joined these conversations, representing many faith traditions—Jewish and Muslim, Catholic and Unitarian, Baha'i and Pagan, Mormon, and those with no faith community at all."
The project has engaged more than five hundred residents in healthy, open, honest dialogue about their experiences of racism and religious bias. People of all faiths and races talked about what connects and what holds them apart. They shared how they wanted to be understood and what they wanted to understand about one another. They talked about their convictions, hopes, and fears.
"One of our mantras at Essential Partners is that community is an act of courage," said John Sarrouf, co-Executive Director of Essential Partners. "It is our honor to stand alongside dedicated volunteers who are living out this courage."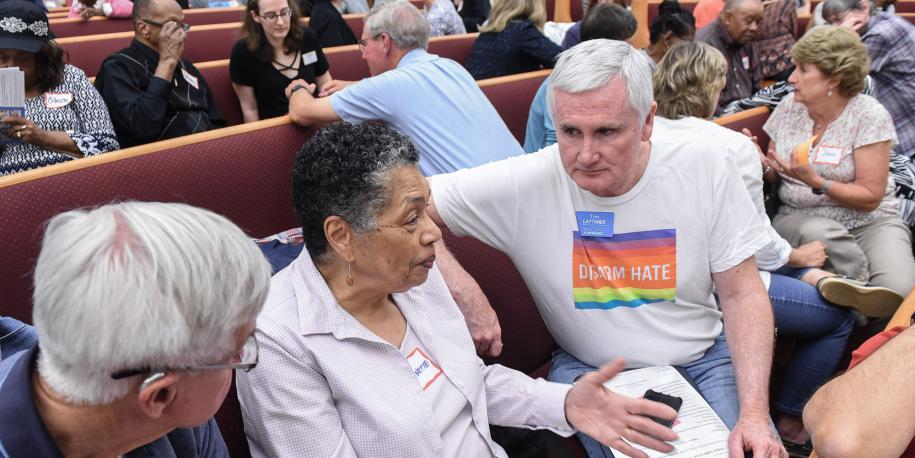 Transforming a Community
Bolstered by the trust and relationships built through these dialogues, the members of this community have turned their hopes into concrete action.
"Courageous Conversations has transformed the way people talk about race and religious difference in our community," said Rabbi Susan Grossman. "We are growing not only in terms of participants but also with regard to the activities that participants organize, such as interfaith book clubs, potlucks, and classes with neighboring faith groups."
Dialogue lets a diverse community envision a shared future, one where that diversity is embraced as something that makes a community strong, resilient, and compassionate. As Rep. Cummings said at the 2018 capstone event, "Diversity is not our problem—it is our promise!"
This transformational collaboration continues with the support of a $25,000 grant from the American Arbitration Association-International Centre for Dispute Resolution Foundation in 2020. Essential Partners will lead facilitation training for dozens of local residents, followed by coaching and consultation that will help extend their impact and strengthen their community