How to Work with Essential Partners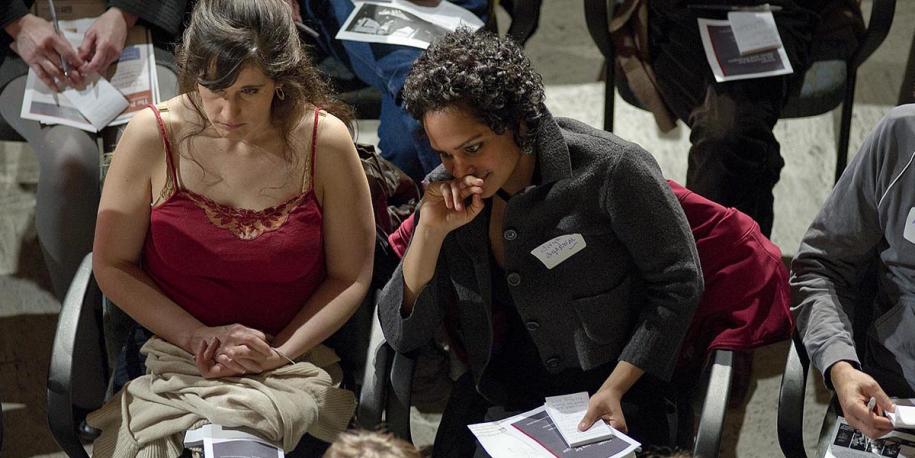 "Essential Partners does the best work in the field of dialogue and communication."
Bob Bordone, Author and Expert
Co-Founder, Harvard Negotiation and Mediation Clinical Program
Essential Partners equips people to live and work better together in community by building trust and understanding across differences.
Since its founding in 1989, EP has collaborated with grassroots groups and international corporations, nonprofits and high schools, local churches and the United Nations. The goal of our approach is not to find common ground on issues or policy. It is not to persuade anyone. Our goal is to help people see those on the other side as complex human beings who care deeply about their community.
In the United States and abroad, EP's approach has been proven to reduce polarization, rebuild trust across differences, improve social cohesion, and make new collective action possible.
Through training, consultation, and custom design, Essential Partners can invest your community, company, or institution with the capacity to engage deep differences with honesty and dignity.

Building Long-Term Capacity for Change
Across the United States—and in dozens of nations on every continent—we have helped communities, institutions, campuses, and workplaces build trust, understanding, and connection around the most divisive differences. We've helped people navigate sensitive topics such as:
Race and ethnicity
Gender and sexuality
Religion and faith
Socioeconomic identity
The global refugee crisis
Gun violence
Political partisanship
Equipping local stakeholders to manage divisive issues on their own, whenever they arise: this is what sets Essential Partners apart from its peers. We invest in our partners' ability to foster a stronger, more cohesive community—for themselves, by themselves, however it looks for them.
To help make this possible, participants in most Essential Partners programs become members of the EP Community of Practice. Members of this global community have access to peer support and in-person gatherings, free consultation and coaching, as well as exclusive resources and learning opportunities.
Intensive training followed by long-term support is the roadmap to lasting change.
Imagine it: the next time there's a flashpoint, you already have the tools to address it. You can foster a discourse that include all voices and views. You help people feel heard and understood. You break down stereotypes and make space for complexity. It'll be a public discussion about essential differences, rather than a crisis.

Open Enrollment Workshops
Essential Partners hosts regular workshops for those hoping to bring our approach to their communities, campuses, institutions, and workplaces.
These hands-on learning opportunities will orient you to the Essential Partners model, equip you to foster connection across differences, and provide tangible coordination and facilitation tools. Our workshops are tailored to meet the needs of your context, whether it's teaching at the college level or leading a congregation.
Download the Free Field Guide to Dialogue
Fostering Dialogue Across Divides is Essential Partners' definitive guide to dialogue, written by co-founder Laura R. Chasin and Senior Associate Emeritus Maggie Herzig.
Designed for beginner- and intermediate-level facilitators, the Guide offers general advice as well as specific nuts-and-bolts tips for those working to convene, plan, and facilitate constructive conversations on deeply divisive issues.
Find out what our veteran practitioners and their colleagues have learned over three decades practicing our distinctive approach.