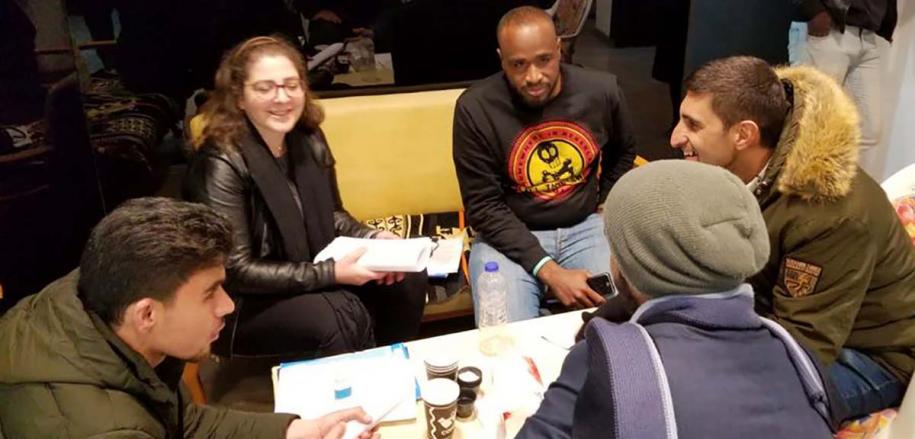 "Essential Partners' methodology helps the refugees feel that they're listened to, that people care about their opinions and experiences … It helps make these hard conversations easier, bring back trust between participants, build relationships between them, and help them understand one another."
Ms. I. Darwazeh
In 2018, more than 70 million people had been displaced by instability, violence, and war, according to the United Nations. More than 25 million of those displaced persons have become refugees, seeking safety across borders. It is the most serious refugee crisis since the end of the Second World War.
There are understandable challenges associated with the crisis, beyond the logistics of housing, security, health, and provisions. A large influx of new residents raises complex questions about identity, culture, values, and experiences.
Essential Partners has collaborated with governmental bodies and NGOs to address these challenges. Bringing together aid workers, officials, refugees, and residents through our trademark dialogue approach, EP has helped foster trust, understanding, and connection across the deepest divides.
These outcomes allow for efficient distribution of resources and effective engagement with refugee populations. It allows a community to make space for new voices and new stakeholders. It helps refugees endure the trauma of displacement.
Want to learn more? Contact us for a free consultation.
Immigration Dialogues
As the topic of immigration becomes increasingly partisan—and polarizing—it is more important than ever to be intentional about how local residents welcome new arrivals. And it is just as important to have the capacity to talk about hopes and fears in regards to a changing community.
Essential Partners has collaborated with community leaders and nonprofits in the United States to help residents talk more openly and honestly about immigration.
By talking constructively and openly about this complex topic, longtime and new residents alike are able to build the foundation for a strong community—together. They can create a thriving community strengthened by difference, connected by trust.
Ready to lead immigration dialogues where you are? Contact us for a free consultation to get started.