Addressing Racism and Crafting Values with Sewanee, University of the South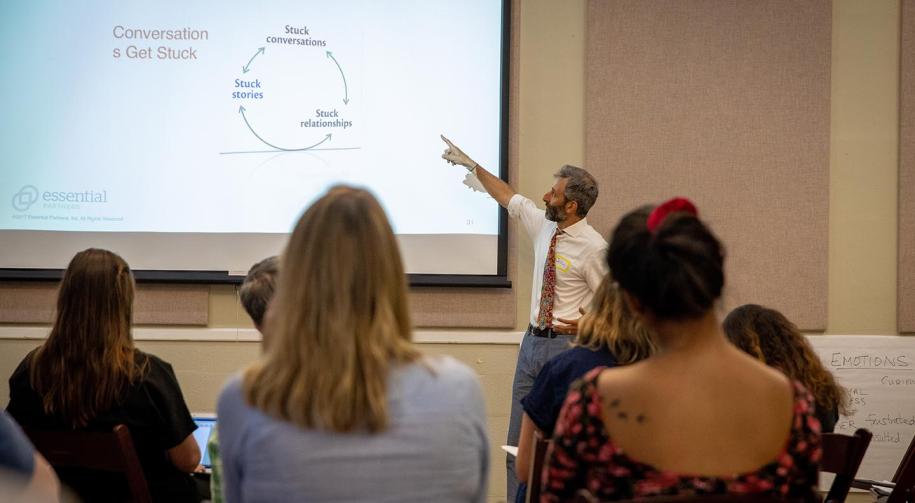 "Where other campuses have really struggled with this complex issue, dialogue really shifted the conversation about representation, power, and history into a new space, allowing it to move forward in a productive and ultimately transformative way."
Cassie Meyer, Assistant Dean for Student Equity and Career Readiness
Sewanee, The University of the South
Sewanee: The University of the South is a liberal arts college located in Sewanee, Tennessee, with more than 1,700 undergraduate students. 
In the Fall of 2018, the Office of Civic Engagement established the Dialogue Across Difference Program, which seeks to build the capacity of Sewanee students, faculty, and staff to connect across their differences through dialogue and civil discourse.
Sewanee's Director of the new Dialogue Across Difference Programs, Cassie Meyer, invited Essential Partners to collaborate on a skill-building and program design strategy the following year. She wanted a thought partner, one who had the experience and capacity to help Sewanee build a sustainable culture of dialogue across their whole community.
Meyer had first encountered Essential Partners in her work with Interfaith Youth Core, as many of the campus partners she worked with had also partnered with EP. In addition, a cohort of Sewanee faculty had attended an EP Dialogic Classroom training in Boston before the formal creation of the Dialogue program at Sewanee.
Little did she know that Essential Partners would ultimately help the campus address incidents of racism, diversify its public history, advance student leadership, and craft a new set of University values.
Building for Sustainability
EP co-Executive Director John Sarrouf and Academic Associate Betsy Hayes worked with Meyer to co-design a training program that included a dialogue orientation, facilitator training, Dialogic Classroom workshops, community dialogues, as well as follow-up evaluation.
The multi-semester partnership allowed EP to create a sustainable basis to scale the program. Sarrouf and Hayes led the first faculty, staff, and student facilitator training in 2019. The following semester, Meyer and Sarrouf led the second training together. Finally, Meyer led the training on her own, with remote guidance and coaching from Sarrouf.
"One of the things I appreciate so deeply about working with EP is their investment in and commitment to building our capacity," says Meyer. "Throughout our partnership, John and the team made it clear that success would mean a transition from working directly with us on campus to supporting us to do the work on our own. That also made it easy to make the case for investing in a partnership with EP—that investment would only strengthen our program and our internal dialogue skills."
More than eighty faculty members, staff, and students participated in the three sets of workshops, imbuing the skills of deep listening, curiosity-driven inquiry, and dialogic educational practices into the entire campus.
"The Essential Partners training provided me with skills that helped us work through conflict and contrast from a place of learning, understanding, and growth," said Sambhav Bansal, '23. "The resources Essential Partners provided me with have allowed me to formulate meaningful and thought-provoking questions to connect with others who might have differing views to mine. We have seen positive results wherever dialogue has been integrated into our programs, as it was in our Proctor (RA) training. We have also used EP's dialogue tools to discuss complex issues, from interfaith relations to differing beauty standards across the world. These dialogues have allowed Sewanee to pause, reflect, and understand, then lead positive change in our campus community."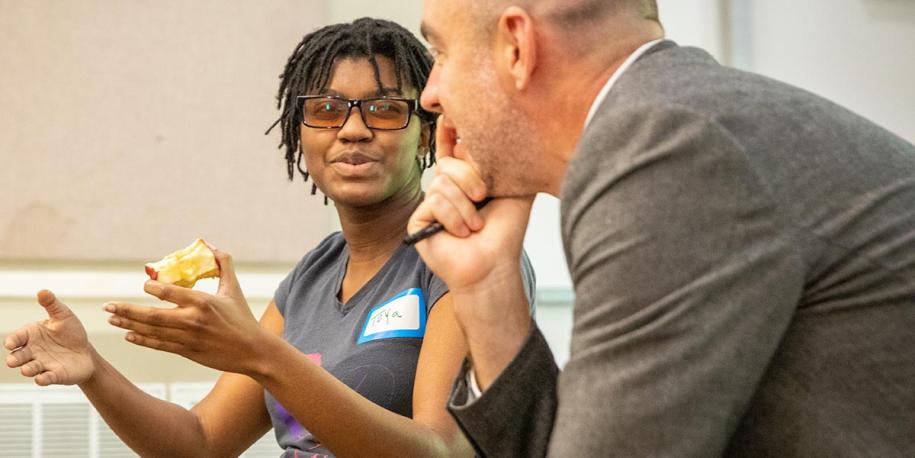 Student Ambassadors: Representation and Allyship
How do we build students skills and capacity, so they can independently use dialogue in all the spaces where they lead and create?
Meyer and Essential Partners led three years of facilitator training sessions, and each year's application grew more competitive than the last. Where thirteen students applied in the first year, more than 70 students applied for 20 spots to participate in year two. 
In the first two years, following the training, students were then offered small stipends to fund dialogue projects. In the third year, Meyer decided to test the hypothesis that there was enough interest in dialogue and facilitation training that students would participate without a stipend. That year, the program was open to all who wanted to participate. Nearly 50 students participated in the two-day intensive training, followed by dozens of student projects that engaged—and transformed—the campus community.
One student spearheaded a series of dialogues about representation in campus art, in collaboration with two EP-trained art and art history professors. They explored who is represented in paintings, sculptures, and statues, as well as the deeper meaning and values behind those choices. 
The dialogues inspired portraiture students to paint more recent figures of importance, such as the first African American tenured faculty and the first Black students. 
"Where other campuses have really struggled with this complex issue," said Meyer, "dialogue really shifted the conversation about representation, power, and history into a new space, allowing it to move forward in a productive and ultimately transformative way."
Amidst some difficult and public incidents of racism in the larger community, two white student dialogue ambassadors approached Meyer for guidance. They were hearing from other white students who weren't sure how to engage as allies, or how to begin building a more inclusive community. These students felt nervous asking questions, anxious that they might cause more harm through missteps—and therefore chose to avoid talking about race altogether.
The students led three dialogues on white allyship with 80 students, faculty, and staff (click here to download the script they designed). Meyer, the students, and several campus stakeholders co-designed a dialogue that helped those gathered talk, openly and honestly, about the experience of making mistakes and participating in structures of racism. They reflected on what they might need to learn from missteps, avoid causing harm, and ultimately advance the goal of a genuinely inclusive community.
A Campus in Crisis
In early 2020, the Sewanee community was rocked by a series of challenges related both to the COVID-19 pandemic and a reckoning with racist incidents on campus. Senior university leadership invited the community to reflect on their shared values.
"It is up to us to decide who we are, what we will tolerate and how we will live together," said Ambassador Reuben E. Brigety II, who was then the university's vice-chancellor and president. "I invite you to be a part of this conversation to reassert and reinforce what it means for Sewanee to truly dwell together in unity."
Meyer drew upon the skills and tools she had gained from Essential Partners to collaborate with Elizabeth Wilson, Director of the Center for Leadership, on a campus-wide initiative. Using Reflective Structured Dialogue as the core methodology, they designed a dialogue series to let community members speak about their experiences, share their hopes and fears for the future, and articulate the values that they found in themselves and in the community at large.
More than 300 Sewanee community members participated in self-facilitated dialogues, mostly on Zoom, including students, alumni, faculty, administrators. The participants reflected on when they felt proud of the university and what values those moments revealed. They also talked about those times when they felt ashamed of the community, and what values that experience revealed. 
"Essential Partners' Reflective Structured Dialogue approach was uniquely suited to the task," Meyer reflected. "It made sure that these difficult conversations had a strong theoretical foundation as well as a clear structure, which fostered equity, vulnerability, and safety in the space. It allowed all members of the community—regardless of their identities, roles, and background—to fully engage in these difficult conversations, drawing out the complexity of the issues and identities at hand, encouraging curiosity across these differences."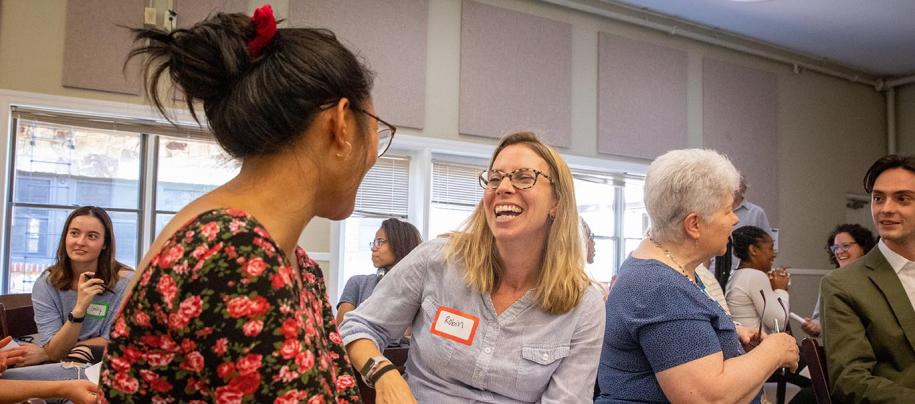 "Essential Partners' Reflective Structured Dialogue approach allowed all members of the community—regardless of their identities, roles, and background—to fully engage in these difficult conversations, drawing out the complexity of the issues and identities at hand, encouraging curiosity across these differences."
Cassie Meyer, Assistant Dean for Student Equity and Career Readiness
Sewanee, University of the South
Shared Values for a Diverse Community
Following each dialogue session, Meyer and Wilson used RSD to share their findings with open focus groups targeted at different constituencies within the Sewanee community: students, faculty, staff, and alumni from both the College and the School of Theology. 
They then synthesized this feedback into themes, which was then revisited through another series of Reflective Structured Dialogue. The dialogue groups again reported their insights to the initiative's leadership, reshaping and revising the initial synthesis of themes. Finally, Meyer and Wilson convened a Values Steering Committee to do the final refining work; after six months of dialogues and reporting, the Values Steering Committee crafted four university values:
Inquiry: We develop open-minded, informed, and intellectually engaged individuals.
Community: We cultivate respectful, inclusive, and enduring relationships.
Flourishing: We share responsibility for the well-being of one another and the Domain.
Courage: We strive for justice, equity, and sustainability in Sewanee and in the broader society.
"Each value reflects a mix of who we already are (actual) and who we hope to become (aspirational)," the Committee statement reads. "These represent our shared values, not the committee's values or any one person's values. The committee has worked conscientiously and collaboratively to ensure these values accurately reflect the input of the larger community. Additionally, these values will be reviewed every five years so updates can be made to meet the needs of the Sewanee community."
Reflective Structured Dialogue has been instrumental to the roll-out of these values across campus. It has been used during the student and faculty orientation as well as professional development with members of the university staff, giving the whole community a chance to envision, together, how these values manifest in the classroom and campus life. 
"Because of our extensive engagement with stakeholders across the whole campus, these new values have already begun to have an impact," said Meyer. "It's one thing to release a document and another thing entirely to help people live into the spirit of these values. We are a more whole community because of dialogue.