A Dialogic Campus at Bridgewater College
In 2012, Bridgewater College in Virginia launched their Academic Citizenship project, designed to transform campus culture by helping students recognize themselves as empowered members of an academic community.
Underpinning the Academic Citizenship project is a belief that the skills that promote academic rigor and success in the classroom—openness, curiosity, mutual respect—also apply to life beyond the classroom in civic, social, and professional contexts.
Leaders and faculty at Bridgewater knew that they needed an experienced partner to invest their community with the skills and resources required to achieve their goals.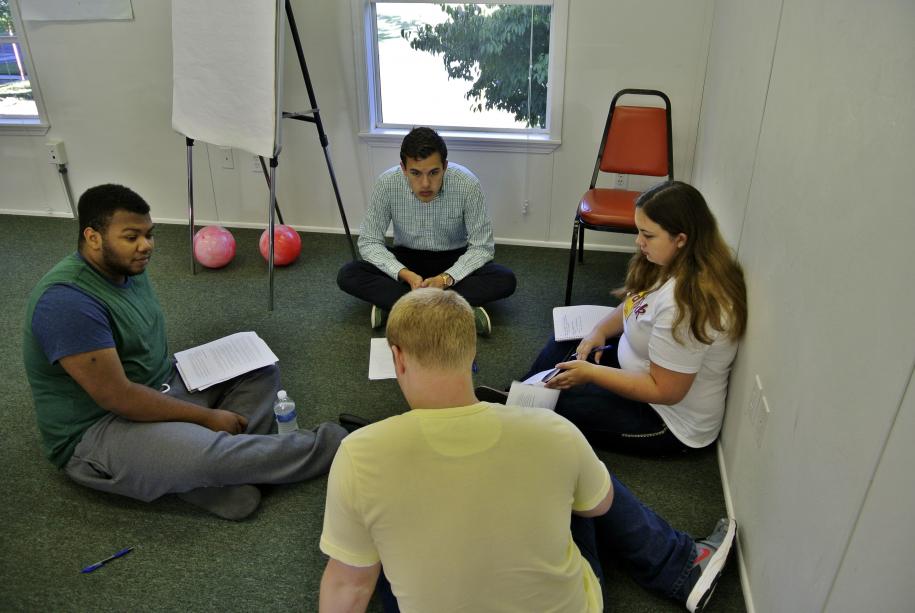 Lasting Impact
In 2013, Bridgewater College invited Essential Partners to lead a workshop, training faculty and staff to model reflective dialogue and training a core of student leaders to engage their peers in EP's approach, Reflective Structured Dialogue.
The combination of civil discourse, open listening, responsible perspective taking, and public reasoning produce open and frank community dialogues in which ideas are offered and critically evaluated.
The remarkable impact of that workshop has led to a long-term collaboration with Essential Partners, which includes annual student trainings and ongoing consultation.
Essential Partners led a training for 30 student mentors who are partnered with faculty members teaching the First Year Seminar (FYS).  A two-day workshop on integrating dialogical practices was held for all FYS faculty and student mentors in August 2018.
Members of the Bridgewater faculty now train all first-year students in EP's approach, with continued coaching from Essential Partners practitioners. A multi-year collaboration to build the skills and expertise of faculty and staff has become an investment in the institution's culture—one that will pay dividends for years to come.
A Dialogic Campus
The implementation of a Dialogic Campus at Bridgewater College has led to better student learning outcomes and a stronger feeling of belonging among first-year students.
The President and other members of the College's leadership have called on students to lead community-wide dialogue events, aimed at helping every member of Bridgewater's diverse campus feel heard, valued, and recognized.
Dialogue events have subsequently addressed topics such as the challenges and benefits of religious diversity, the 2016 presidential election, micro-aggressions, and freedom of expression.
Bridgewater College leaders, faculty, and students have used the power of dialogue to empower the goals of academic citizenship, reinforcing a set of skills that are crucial to academic success, democratic civic engagement, and the strength of their communities.