Ravenscroft Students Leverage EP Training in the Wake of a Local Shooting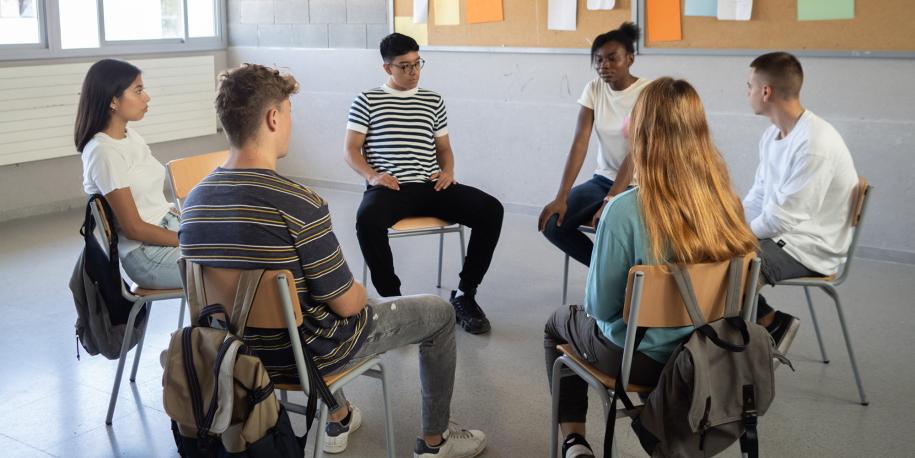 "No matter where you stand on the role of guns in our lives, everyone can agree that this is a tragedy that no one wants to happen to any community. In order for our Ravenscroft community to build a foundation of deeper awareness and more complex understanding with each other about this topic, this space is here today for students to talk with each other."
Student Dialogue Leader
On Thursday, October 13th, 2022, a fifteen year old boy shot and killed five people, injuring two others, on the Neuse River Greenway in Raleigh, NC.
The park where the shooting took place is located 25 miles from Ravenscroft School, an independent school that has collaborated with Essential Partners since 2020. Students at Ravenscroft Upper School, trained by Essential Partners in the skills of facilitation and dialogue, wanted to have a conversation in their school community about the role of guns. 
Many households in the Ravenscroft School Community contained firearms and the students knew that the issue can be highly polarizing. But they felt ready. Through training and coaching, EP had bolstered their skills. They had built the confidence to lead conversations about an issue like this, one where there are a range of views on the topic. 
Ravenscroft School first reached out to Essential Partners for help having conversations around the 2020 presidential election. They were concerned about the cohesion and resilience of their community in the face of fierce partisan polarization. Since then, EP has laid a foundation for the students and educators of Ravenscroft School to hold space for hard but crucial conversations about their values, their community, and the challenges they face together. 
"Deeper awareness and more complex understanding"
The day after the shooting, Ravenscroft dialogue leaders reached out to Essential Partners with goals, an outline, and a plan of action. Because they had already been trained in EP's Reflective Structured Dialogue approach, the students and educators were able to quickly envision an intervention. 
They drew from the EP Guide to Dialogues on the Role of Guns as a starting point for their program design. With guidance from Essential Partners Associate Nadiya Brock, the student leaders were able to design a custom dialogue around the issue of guns that met the specific needs of the moment and their community. They crafted a set of prompts that invited mutual understanding and deep personal reflection, such as:
Share how the recent shooting has impacted your thinking about the issue of guns in the Triangle community. What's important for others to understand about what is at the heart of this issue for you?
Where are the places where you feel conflicted or have questions about this issue? What are those tensions and/or what questions do you have?
On Wednesday, October 19th, less than a week after the shooting occurred, the students convened a Reflective Structured Dialogue. 
"Last week, five people in our community lost their lives when a 15 year old boy began shooting on the Neuse River Greenway Trail," the leader began. "No matter where you stand on the role of guns in our lives, everyone can agree that this is a tragedy that no one wants to happen to any community. In order for our Ravenscroft community to build a foundation of deeper awareness and more complex understanding with each other about this topic, this space is here today for students to talk with each other."
As ever, the purpose of the dialogue was not to persuade one another. They wanted to share their perspective with courage and listen deeply in this moment of grief, in order to better understand themselves, each other, and the larger community—so that this dialogue might make more difficult conversations and decisions possible.
The Potential of a Dialogic Culture
When Essential Partners collaborates with a school like Ravenscroft, the goal is to transform the way the community navigates their differences, especially in challenging moments. That might be a polarizing national event, such as a Presidential election, or a local tragedy, like this shooting.
Change happens when we empower the people who live, learn, work, and worship together in a community. We give people the opportunity to learn and practice the skills they need to hear and be heard, to help people feel they belong, to build relationships that can withstand the pressures of an increasingly fragmented nation.
Schools have invested in these skills can turn to them—and each other—in times of crisis.