Creating Strong, Open, Inclusive School Cultures with Dialogue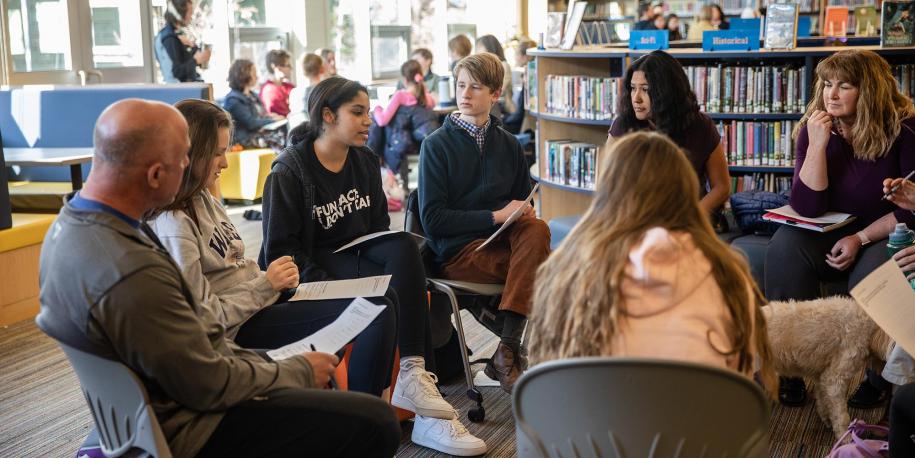 "Essential Partners's dialogue initiative is, literally, the best forum I have attended during my time at this school. The openness and sharing in our group led to genuine connections. I'm not sure words can express how meaningful this event was to me. Truly priceless."
High School Parent
To inspire a generation of bridge-builders and peace-makers, Essential Partners is equipping secondary and middle school students to have essential conversations in their schools and communities.
In 2018, Essential Partners received a generous grant to consolidate and build on years of work in higher education, adapting those tools for the nation's secondary and middle schools. Piloted with a cohort of public and private schools in Massachusetts, North Carolina, and Wyoming as well as networks of schools in Boston and New York, the Dialogic Classroom model has been adapted to meet the needs of a new context.
"Schools today face unique challenges like no other time in history," said Allyson Bachta, a longtime K-12 public school educator who also serves as a project advisor for Essential Partners. "EP's approach is flexible enough to support educators working across diverse contexts and parallels work that they are already doing to support students' social-emotional development, create trauma-sensitive classrooms and schools, and differentiate learning experiences to meet the needs of all learners."
In addition to meeting educational goals, EP's expanded Dialogic Classroom model encourages inquiry, reflection, and civil discourse—all virtues that make a free society possible. Hundreds of teachers, administrators, students, and parents have participated in Reflective Structured Dialogues as well as Dialogic Classroom training.

Curiosity, Diversity, Inclusion, Dignity
EP's engagement with these early pilot schools has been transformative, underscoring the value of conversations across differences and respectful engagement around differing viewpoints. Students and teachers alike have noticed the shift.
"I learned that through productive dialogue, you can make relationships and friendships with people through talking about your differences and similarities," said one Newburyport High School student. Another student reflected that they understand more about the students around them and feel less alone now because of dialogues held at their high school.
By training a broad base of stakeholders—students, teachers, administrators, and parents— entire school cultures have changed. People report healthier conversations, more curiosity, an openness to new ideas, and a willingness to learn from others.
"EP's approach allows all the students in the room to speak and be heard," said one teacher, "to think about different perspectives on the issue without getting into arguments or fights."

"EP's approach allows all the students in the room to speak and be heard, to think about different perspectives on the issue without getting into arguments or fights."
Educator
The Dialogic Classroom empowers educators to lead essential classroom conversations. "EP's approach has given me tools to deal with what comes up in my classroom," said another teacher. "I teach classes about charged topics. As I'm thinking about and exploring ways to broach these conversations with students, I use EP's approach."
An educator from Cody, Wyoming, remarked that she noticed more analytical thinking from students in dialogue than in either essays or Socratic discussions.
Students are also empowered to lead their own dialogue initiatives. Following school closures in response to the COVID-19 pandemic, a student in Cody designed, organized, and facilitated a series of dialogues among students and teachers about the loss of their social networks and enrichment activities.
"I can't even begin to explain the gratitude and fulfillment I felt from participating in this Essential Partners COVID-19 dialogue," said one student. "It helped me better understand myself and what I hope to accomplish throughout this period of uncertainty."
More recently, Black educators from several independent schools in North Carolina used EP's approach to talk about the stress of managing both the pandemic and the George Floyd protests. Likewise, Cary Academy coordinated a series of dialogues with the parents of students of color, giving them the chance to build community and find mutual support.
"Essential Partners's dialogue initiative is, literally, the best forum I have attended during my time at Cary Academy," said one parent. "The openness and sharing in our group led to genuine connections. I'm not sure words can express how meaningful this event was to me. Truly priceless."
Changing the Educational Paradigm
The success of EP's innovations for middle and high school contexts has led to a surge of interest from schools across the United States. In communities large and small, educators want to encourage open, inclusive, civil discourse about tough topics alongside self-reflection and self-exploration.
Peer dialogues about race and racism are currently being planned by EP-trained students in North Carolina. Ravenscroft School, also in North Carolina, hopes to collaborate with EP to bolster their anti-racism curriculum, in coordination with the Anti-Defamation League.
Co-Executive Director John Sarrouf has been collaborating with the Edward M. Kennedy Institute for the U.S. Senate to train Massachusetts civics teachers in the dialogic classroom approach. The Commonwealth's students will learn the mechanics of American democracy while practicing the habits of mind that make democracy possible.
"The Dialogic Classroom isn't just another classroom management system," said Sarrouf. "It's a container for conversations about deeply-held beliefs and formative experiences. The Dialogic Classroom is a new educational paradigm that empowers students to explore different values, perspectives, and identities."