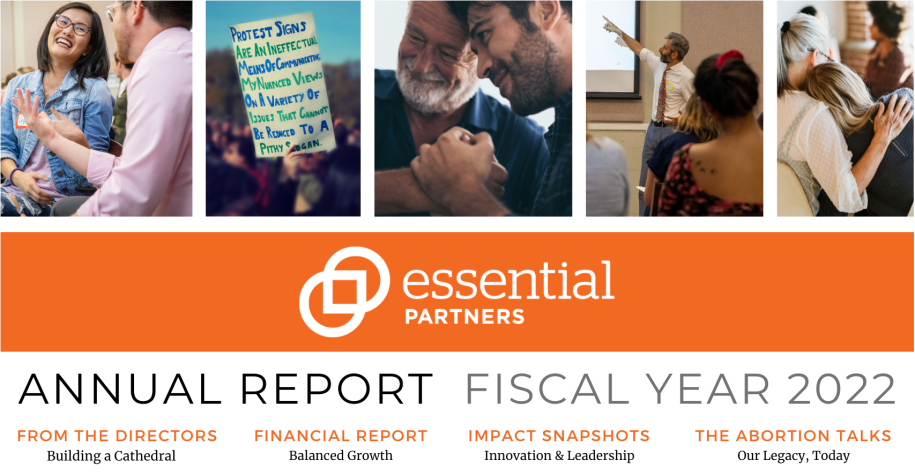 Polarization thrives in the spaces between us. These inner spaces—the gaps between what we believe and what we're able to say, the leap from uncertainty to conviction, the void that separates fear from hope—are made manifest within physical spaces such as schools, conference rooms, back yards, and town halls.
It is within these critical spaces that the work of Essential Partners has the greatest impact. We give people the means to strengthen relationships, deepen belonging, and renew hope in their communities. 
In the growing field of bridge-building organizations, Essential Partners stands apart. We remain unique for the depth and rigor of our training, the flexibility and resilience of our approach, as well as the endurance of our impact, influence, and commitment. 
Our theory of change builds from the ground up, community by community. We empower leaders who shape cornerstone institutions like schools, faith centers, public institutions, and workplaces, which instill the culture of a community and comprise the fabric of this nation. 
That's why we provide in-depth training and offer scalable group workshops and engage partners in culture-change initiatives and support people through our Community of Practice. With a critical mass of local change, we can transform the country—and the world.
It takes sustained investments of expertise, time, and resources to do this work. It's not quick and it isn't easy. In those crucial spaces between people, we are not just laying bricks. We are building a cathedral.
Read more about our impact over the past year in our FY22 Annual Report.