John Sarrouf
Co-Executive Director and Director of Program Development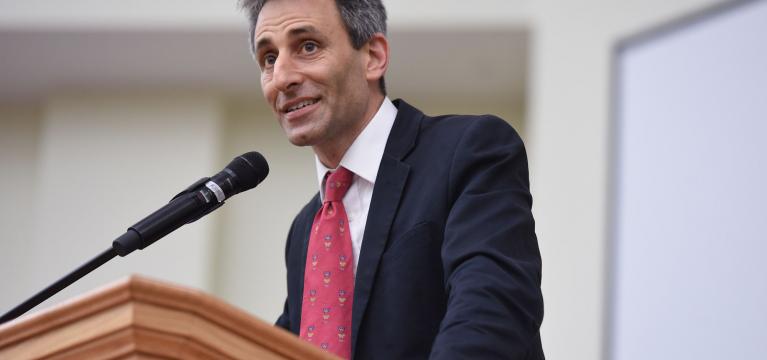 John Sarrouf Co-Executive Director and Director of Program Development of Essential Partners. He teaches people how to facilitate dialogue across differences, mediate conflict, and manage interpersonal as well as intergroup challenges in their lives, communities, and workplaces. 
Over more than two decades working with Essential Partners, John has facilitated dialogues on issues such as the role of guns in American life, police and the Black community, Israel and Palestine, interfaith relations between Muslims and Jewish people, human sexuality in the Christian church, as well as race and ethnic diversity. With Essential Partners, he has helped found sustaining, independent dialogue programs at universities, museums, and civic organizations across the country and has also supported civic participation projects in Massachusetts, North Carolina, Florida, and Utah, among other locations.
 
John studied in the masters program in dispute resolution at the University of Massachusetts, Boston and served as the Assistant Director of Difficult Dialogues at Clark University, where he taught dialogue to faculty and students. He also co-founded the Peace and Conflict Studies program at Gordon College, where he taught for fifteen years. John teaches reconciliation at the European Center for the Study of War and Peace in Zagreb and sits on the advisory board of the Center for Science of Moral Understanding at the University of North Carolina.
 
John has authored curriculum and dialogue guides for schools, documentary films, and journalists as well as public dialogue guides on the opioid crisis, guns in America, the red-blue divide, and returning to post-pandemic life, among others. John has also served as the primary investigator on research and innovation grants from the Templeton Foundation and the University of Connecticut, the Fetzer Institute, and the American Arbitration Association Foundation.
 
To all of his work, John brings fifteen years in the theater as a professional actor and director. He is a member of the stage actors' union, Actors Equity. 
 
Contact Info:
john@whatisessential.org