Virtual 30th Anniversary Gala & Founders Award Presentation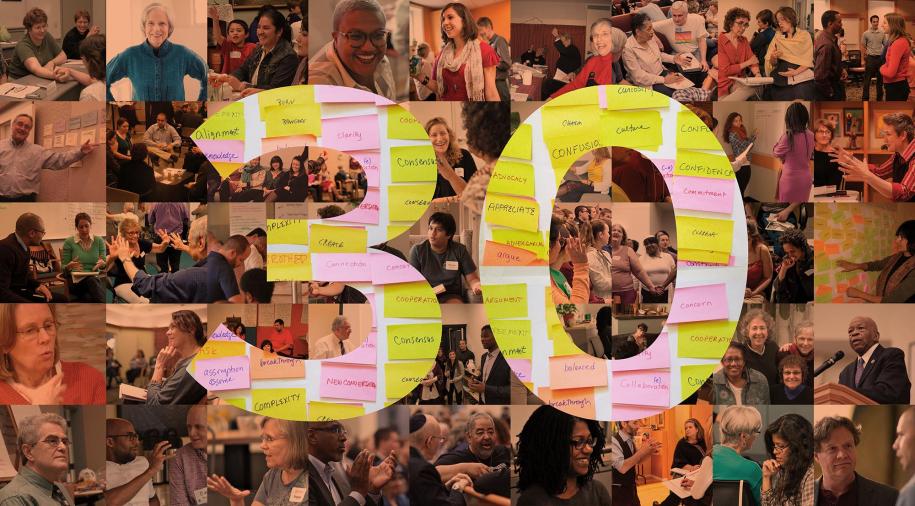 Essential Partners' Board of Directors, founders, practitioners, and staff cordially invite you to a Virtual 30th Anniversary Gala and Founders Award Presentation
With friends, collaborators, and supporters from across the decades, we will celebrate this organization's remarkable history, influence, and impact, from its founding as the Public Conversations Project in 1989 to our vision for the next thirty years of transformational work.
Three inspiring EP partners will be awarded the Essential Partners Founders Award at the gala, recognizing their courage and dedication in working to build trust, understanding, and relationships across deep differences.
Thursday October 1, 2020
7:30 pm–8:30 pm
Online
Click here to purchase tickets or make a 30th Anniversary donation!
Questions? Contact Daniel Pritchard.
Special Guests
Victoria Reggie Kennedy is Co-Founder and President of the Board at the Edward M. Kennedy Institute, dedicated to continuing the legacy of her late husband. She's also a Trustee of the John F. Kennedy Center for the Performing Arts, she serves on the Board of Directors of the National Leadership Roundtable, and she's is a member of the Commission on Political Reform at the Bi-Partisan Policy Center. Ms. Kennedy is a senior counsel in the corporate and securities practice group of the international law firm Greenberg Traurig LLP.
Amory Sivertson is the co-host and producer of the WBUR podcast Endless Thread. She's one of the founding producers of Modern Love: The Podcast and the former producer of Dear Sugar Radio (now called Dear Sugars), hosted by Cheryl Strayed and Steve Almond. Amory is also an independent musician, and she's about to release her fourth full-length album. She will serve as the evening's master of ceremonies.
2020 Founders Awards Recipients
Three inspiring partners will be presented with the 2020 Founders Awards in recognition for their tireless efforts to build communities strengthened by difference, connected by trust.
Kate Deiter-Maradei, Police–Community Dialogues (NC)
Kate Deiter-Maradei graduated from UNC Law school and for ten years practiced as a litigator with Teague Campbell, primarily representing defendants. In 2013, she founded Deiter Mediation, an alternative dispute resolution practice. Kate is a NCDRC Certified Superior Court Mediator who is widely recognized for her community involvement. Among the many projects she supports is an ongoing facilitated dialogue between Triangle-area law enforcement officers and African American residents, supported by Essential Partners. The goal of the project is to help these communities address contentious topics to build mutual trust and understanding. Her accolades include making the Triangle Business Journal's "40 Under 40" list, being featured as The News and Observer's "Tar Heel of the Week," and receiving an NCBA Citizen Lawyer Award in 2014.
Betsy Hayes, Bridgewater College's Dialogic Campus (VA)
Harriett E. "Betsy" Hayes is the Lawrance C. and Carmen C. Miller Chair in Ethics, Associate Professor of Sociology and Division Head for Humanities and Social Sciences at Bridgewater College. Betsy has been engaged in the campus-wide dialogue initiative at Bridgewater for the last eight years and was a Co-Principal Investigator on a multi-year, multi-institutional grant, "The Dialogic Classroom: Teaching for Humility and Civic Engagement" coordinated by Essential Partners and funded by the Humility and Conviction in Public Life Project at the Humanities Institute at the University of Connecticut and the John Templeton Foundation.
Shehlla Khan, Courageous Conversations on Race & Faith (MD)
Shehlla Khan has been a resident of Howard County, MD, for 17 years. She is married with three children, two boys and a girl, and holds a Masters in Engineering from the University of Maryland, College Park. Shehlla worked for several years with the Maryland State Highway Administration as a Transportation Engineer. She is currently a member of the Strategy Team for PATH, a social welfare organization in Howard County. Shehlla represents the Muslim community of Howard County in that role and has participated in many of its campaigns over the past eleven years. Shehlla is a devout Muslim, actively engaged in learning Islam, as well as a Girls' Educator at Dar Al Taqwa Islamic center in Ellicott City.
30th Anniversary Gala Sponsors
Essential Partners is enormously grateful for the support of our sponsors, whose generosity advances our vital mission in the 21st Century and makes this gala celebration possible. These institutions and individuals share our bold vision for a better future—a world of thriving communities strengthened by difference, connected by trust.
Interested in sponsorship? Download our sponsorship guide (PDF).
Chasin Leadership Circle ($10,000+)
Laurance S. Rockefeller Fund
Founders Circle ($5,000+)
Stewardship Circle ($2,500+)
Hoffman Institute
Anonymous
Partnership Circle ($1,000+)
Cambridge Trust
Deanne Bosnak
TD Bank
Friends & Family Circle ($600+)
Robert Stains Jr. and Jill Jackson
Dr. Julien Pham