Preview Screening: The Abortion Talks Documentary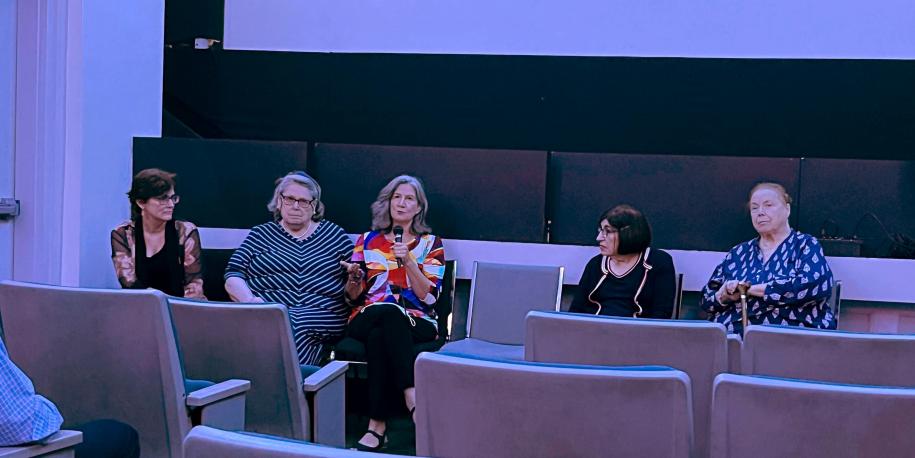 Last night, I had the immense pleasure of being invited to a preview screening of The Abortion Talks, a documentary series by filmmakers Josh Sabey and Sarah Perkins that tells the story and impact of EP's confidential abortion dialogues between pro-life and pro-choice leaders.
In Christian Science Monitor, Senior Editor Clara Germani describes the wisdom and outcome of the dialogues: "no minds were changed on abortion—and yet so much did change. The film exhaustively documents the goodwill and humility these women mustered and held simultaneously with their opposing moral convictions." She quotes Nicki Nichols Gamble, past President of the Planned Parenthood League of MA, who says, "we became friends, strange as though that seems even to me. ... It changed my life."
Four of the six dialogue participants attended the Boston screening: Melissa Kogut, past Executive Director of NARAL Pro-Choice MA; Frances Hogan, who has served as President for numerous pro-life organizations; Madeline McComish, past President of MA Citizens for Life; and Nicki Nichols Gamble, past President of Planned Parenthood League of MA.
After viewing the first two episodes together, the women joined facilitator Susan Podziba to speak about the continued importance of dialogue to to stop the kind of tragic political violence that brought them together. It was a profound and moving event.
We face a moment of great instability and polarization around the issue of abortion, as people across the country grapple with the Supreme Court's decision to overturn Roe v. Wade. Partisan polarization has grown more extreme. Public discourse around abortion—and so many issues—omits the views of everyday people entirely. People more and more opt not to engage across differences of values and beliefs.
We must not wait for another violent tragedy to enter into a dialogue; we must engage in dialogue now to stop another violent tragedy.
Against this seemingly grim background, the story of these six courageous women stands as a beacon of hope—as does the legacy of our late co-founder Laura Chasin, who designed and facilitated those dialogues with policy mediator Susan Podziba. We work every day to keep that vision alive, teaching thousands upon thousands of people across the United States the same skills used in the dialogues almost thirty years ago.
Want to change the way abortion is discussed (or just as often, avoided) in your community? Here are three things you can do:
Together, we can create a world of thriving communities, strengthened by difference, connected by trust.