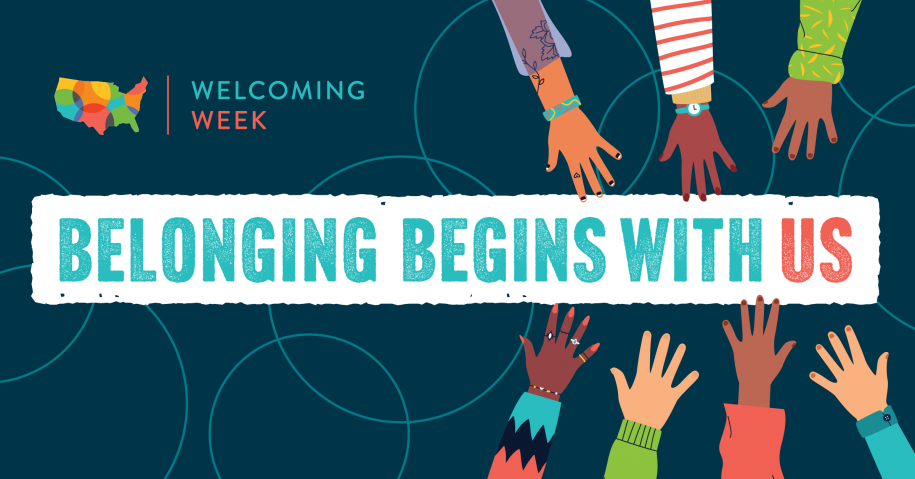 Essential Partners is thrilled to collaborate with Welcoming America for #WelcomingWeek2021!
Taking place September 10–19 through virtual and in-person events, Welcoming Week showcases the growing movement of communities striving to be more welcoming places for all, including immigrants. By fostering mutual respect and cooperation between new and long-time residents, Welcoming Week brings together people across lines of difference toward greater prosperity for all.
As part of EP's mission to equip people to live and work better together in community by building trust and understanding across differences, we have worked with communities from New Hampshire to Jordan to build the skills and structures they need to help immigrants and refugees feel like they truly belong.
EP Co-Executive Director John Sarrouf was also invited to participate in "Fostering Belonging Individually and Structurally," a series of videos and webinars from Welcoming America on belonging: what it means, what it looks like, and how we can create belonging as individuals with structural impact. Look for that series to launch at the end of September!
Essential Resources About Belonging & Immigration
A stronger sense of belonging and connection, even across big differences, has always been one of the core outcomes of EP's Reflective Structured Dialogue approach. Here are two prompting dialogue questions—drawn from real community collaborations—to help you explore, together, the experience of belonging:
Can you share a story about a time when you felt like you really belonged to a community? What about that experience—the people, the place, the interactions, the traditions—helped you to feel a deep sense of belonging and connection? What did that sense of connection invite or make possible?
Think about a time when you felt like you were on the outside of a community. (You can share the story, but you do not have to.) How, if at all, did that experience impact or shift your sense of self or your sense of the group? What did that experience reveal to you about your personal values or the values of the group?
Here also are three dialogue question prompts that are designed to help you have a richer conversation about what immigration means to you:
Can you share a story from your life experience that might help others understand how you came to have the perspectives, concerns or values you have related to immigration?
What is at the heart of the matter for you when you think about immigration?
As you think about your perspectives and experiences with this issue, can you speak about any ways you might be pulled in different directions?
If you have some facilitation experience and you want a more comprehensive resource to support conversations in your context, take a look at our Insider / Outsider Dialogue Script. Written for classroom use, it can be easily adapted for community settings. This resource contains a purpose statement, dialogue structures, questions, and a complete facilitator script.
Pro Tip: Structures Can Make All the Difference
Using simple structures can have a big effect on the quality of public discourse. Structures help people find the right words, listen to one another more closely, and connect across differences. Below are three conversation structures that we use frequently in community conversations:
Read each question aloud twice. Pause for two breaths before reading it the second time. Share the question in writing too.
Give your participants a moment to reflect on the question and encourage them to take notes about what they want to share when it's their turn. 
Provide each person the same amount of time to respond to the question and be clear about the speaking order.
We sometimes call this model Think, Write, Speak. It helps people let go of worrying about what they're going to say and focus on listening deeply to one another.
Uh, This Conversation Didn't Go As Planned…
What happens if the conversation doesn't go as well as you hoped it would? Immigration and belonging are personal, emotional, complex issues unique to every community. If you need more support to hold conversations that engender belonging, trust, and understanding, sign up for a free phone consultation. We are always here to help.