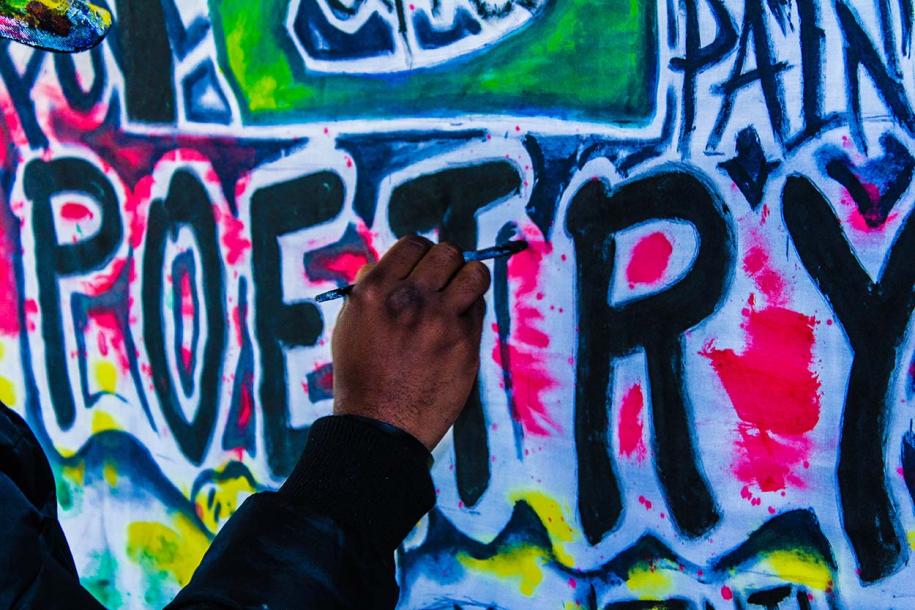 I have come to incorporate poetry and recitation into my work with Essential Partners because poetry arrives with its own rituals.
"Poetry lifts you up." As far as I've seen, I'm the only person slinging this hashtag on Twitter. The phrase is one I borrowed from a flyer that hung for years in my office. I coined the tag to reveal the difficult-to-describe experience of discovering yourself in someone else's short-lines, briefly yet deeply.
Should you search for #poetryliftsyouup, you'll find that it leads to my Twitter handle and a cache of poems. It is not trending. It may never trend. But that doesn't matter.
Poetry is the news that stays new. Poetry is one of the longest always-on-point art forms, regardless of the age in which we're living, or how much I resisted poetry as a young writer, or how absolutely I rely on it now, in my "regular" life, as well as in spaces where I'm working with people who struggle to express themselves or be heard.
Poetry in Practice
I have come to incorporate poetry and recitation into my work with Essential Partners because poetry arrives with its own rituals.
Reading poetry aloud invites cadence and flow, pause and reflection. It allows listeners to have a moment with themselves, regardless of how many other people are standing beside or opposite them.
Some of that ritual is my own, honed by years of study, articulation training, and memorization of my favorite pieces. Some belongs to my forebearers—to African American speaking traditions and how, when, and where I grew up. But most of it comes from the poets themselves, the ways they arrange phrases, invite the senses, and evoke emotions.
In my work at Essential Partners, I've learned to choose carefully: poems that open; poems that close; poems which pull on a thread of what I see to be true about a situation in which people have found themselves, or that invite openness and discovery, and poems which are short and utilize plain-language. I have a particular fondness for works that invite listeners to engage the wisdoms they carry, innately.
Last and importantly, a poem must mean something to me. I need to have a relationship with a work in order to speak its power into the room. I always practice beforehand, reading poems aloud several times so I won't trip over unusual words or phrasings later, as well as to understand where the pauses and silences fit.
Poetry can mark transitions well in a program—a beginning, a middle point, or an end. They can invite the participants into a certain mindset while also bringing you, the reader, into the room in a different way, locating you between what is metaphorical and what is practical, lifting you up and settling you into the role you endeavor to embody, whatever your context.
Below are a sampling of poems—and two prose passages—that I and my Essential Partners colleagues have used in our dialogue facilitation and training. I invite you to read them aloud, try them on.