National Week of Conversation 2023, April 17-23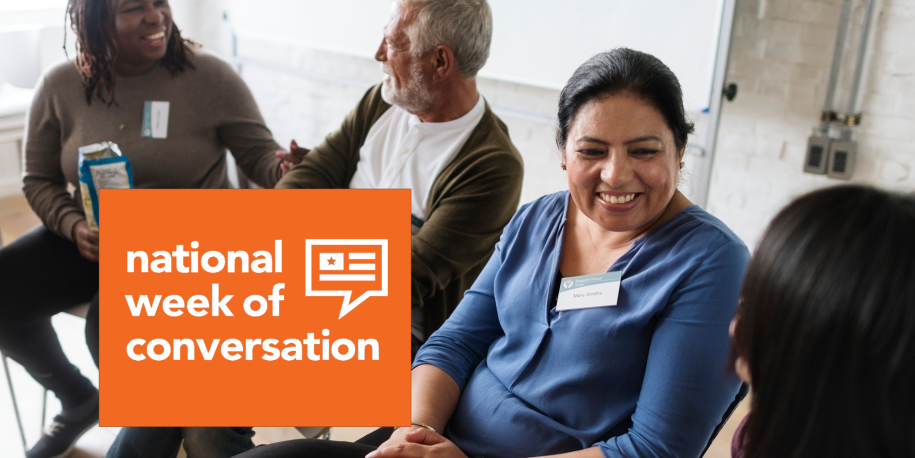 Essential Partners is thrilled to participate in National Week of Conversation 2023, April 17-23
The National Week of Conversation (NWoC) is for anyone who is exhausted by the division that plagues our politics, schools, workplaces, houses of worship, and communities. Led by the Listen First Project, a coalition of leaders and organizations working to build a more cohesive and inclusive democracy, NWoC invites you to embark upon conversations that can rekindle relationships, heal communities, and transform a nation.
This year, Essential Partners is proud to sponsor a week of events and resources to inspire and support anyone who is working to strengthen relationships, deepen belonging, and renew hope in their communities.
Monday, April 17: A Virtual screening of The Abortion Talks
Join Essential Partners and the #ListenFirst coalition to kick off National Week of Conversation with a virtual screening of The Abortion Talks. This new independent documentary chronicles the five-year-long confidential dialogues between pro-life and pro-choice leaders that was convened and co-led by Essential Partners founder Laura R. Chasin. It's a story of hope, courage, and the possibility of deep connection across uncompromising divides. 
April 17–21: EP 5 Days of Dialogic Series
This series of five daily emails will provide expert insight, tips, and tools drawn from more than thirty years of helping people build relationships across differences to address their communities' most pressing challenges. Each email contains a video, resource, and daily dialogue challenge. Sign up now to supercharge your efforts, large or small, to fight polarization and heal your community.
Wednesday, April 19: Become a Catalyst for Change Webinar
How do I create deep, lasting, systemic change where I live, work, worship, and learn? You'll learn more about our theory of change, hear about a few examples from our decades of real-world experience, and have an opportunity to ask questions about your own context at this live, practitioner-led catalyst webinar.
Thursday, April 20: EP Virtual Dialogue Experience
EP's proven approach, Reflective Structured Dialogue, is better experienced than described. Join us for a live dialogue led by a trained EP facilitator—either an EP Associate or a member of our global Community of Practice. This is the perfect capstone event for those who have watched The Abortion Talks, received our email series, and/or attended the catalyst webinar.
Those who are members of Essential Partners' global Community of Practice—that is, anyone who has participated in an EP training—can find additional resources and exclusive webinars at the Community of Practice Landing Page (password protected).