Impact Snapshot: Building Student Skills With Ravenscroft School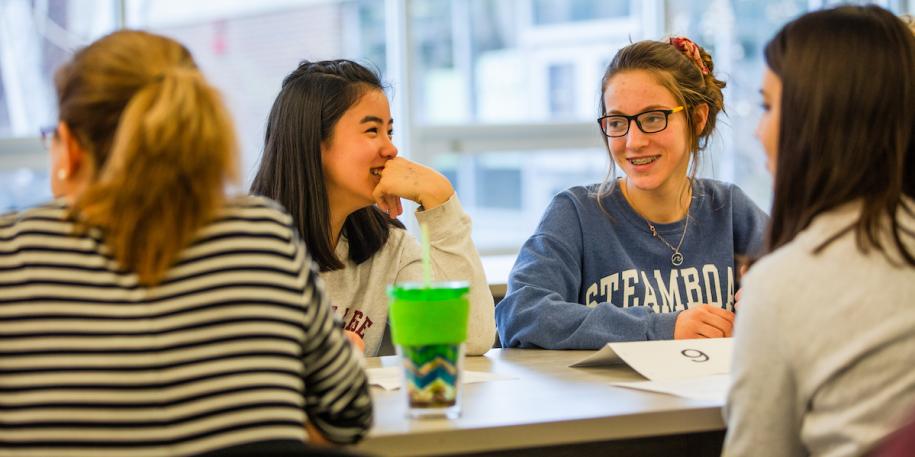 "Students feel like they have a voice, they are willing to take some risks in the classroom, and they are learning to listen to other students' ideas and ways of interpreting situations."
Sarah Baker is a Middle School Language Arts Teacher and MS Language Arts Department Chair at Ravenscroft School, a pre-k through grade 12 independent school in Raleigh, North Carolina. Ravenscroft's mission is to nurture and prepare students to thrive in a complex and interdependent world.
As part of our multi-year partnership with Ravenscroft, Essential Partners recently trained Sarah and a cohort of twenty four teachers in our Dialogic Classroom approach. The Dialogic Classroom transforms the in-person and virtual classroom into a space of engagement and inclusion where students learn to speak constructively across differences, supporting the development of social-emotional skills that are crucial for student success. 
Sarah recently took advantage of our free follow-on coaching for EP training alum. In that conversation, it became clear that Sarah has been able to apply the skills, processes, and structures of the Dialogic Classroom in her own context. Here's what Sarah shared with us about her work and the impact it is having just a few weeks into the school year.
"I have been asking connecting questions as warm ups since the first day of school. For example, one of the first questions I asked was: Think about a time when you were given credit for something you did or said, and how that made you feel. You can also think about a time when you were NOT given credit for something you did or said, and how that made you feel. What was the situation? How did you feel?
"This was the warm up for a lesson about citing text evidence. I wanted students to be able to understand why it is such a big deal that we give others credit for their words/ideas/etc. They were able to make the connection with ease, and I had very few errors with citations on their first written responses."
Sarah has also been using classroom norms and communication agreements, which help her students listen well, decide when and what to share (or not share), and balance the air time among speakers.
"Students have become accustomed to our norms (active listening, ability to pass/pass for now, sharing for 25 seconds, etc.) and I really don't even need my timer most days (though I still use it!)." 
After her coaching session, Sarah tried on some new opening activities that support connection, while adding variety. 
"EP helped me to think about other ways that students could have shared experiences and/or do activities outside the norm, in order to connect with one another. I have been incorporating these into my lesson plans to switch things up, and the level of engagement has increased significantly. Students feel like they have a voice, they are willing to take some risks in the classroom, and they are learning to listen to other students' ideas and ways of interpreting situations."
Sarah's experience illustrates the importance of beginnings. How we set the stage for a conversation, classroom, or community has a significant impact on what's possible in the future.
"It is only our fourth week of school, but I am so excited for the rest of this year. I already feel like I know these students so well, but I know there will be way more to learn along the way. I look forward to seeing how I can use these strategies with challenging topics, and I feel like students will be more willing to be vulnerable in situations where they may not have been willing to be vulnerable in the past because they weren't given time, space, and consistency of questions to make connections (with themselves, the curriculum, or each other)."
If you're ready to encourage more student participation, more constructive engagement across different perspectives, and stronger connections in a diverse classroom, register for our next Dialogic Classroom training or reach out to schedule a free phone consultation.