Dialogue & Diversity Initiatives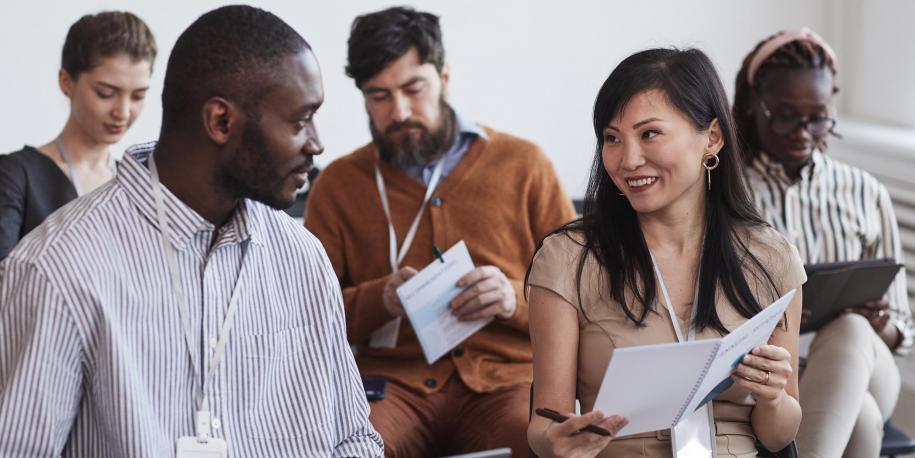 "Equipping organizations to hold a space for meaningful, open dialogue about DEI concerns and hopes is a key step for any group's efforts to build a more open, inclusive, diverse community."
We find ourselves today in another ongoing national reckoning on race, one that came to the fore after George Floyd's death and remains present now with the Atlanta murder of women of Asian descent barely in our collective rearview mirror.  
As a mediator and conflict resolution practitioner, and as a facilitator of implicit bias workshops, I watched as interest in the Diversity, Equity, and Inclusion (DEI) field rose last summer. Individuals and workplaces started taking concrete steps to grapple with the ways that racism and bias impact their working relationships and experiences.  
More and more, organizations are looking for a holistic DEI approach—one that includes training, leadership coaching, facilitation, and even sometimes serving as an ombudsperson or conflict coach around DEI issues. This is a welcome change. We know from research on the impact of implicit bias training, for example, that the "one and done" approach cannot lead to sustained change, either individually or organizationally. Rather, the work must be approached systematically in order to have the hope of organizational transformation. 
My approach in implicit bias workshops is to normalize the reality that we all carry some implicit biases and to create space for self-reflection. Ideally, we also begin to have conversations about implicit bias—its impact on us as individuals, and in our workplaces and communities—and next steps to facilitate change.   
Collaborating with Essential Partners for the past two years has confirmed that an essential ingredient for meaningful conversations about DEI is dialogue.
In more traditional mediations, the mediator "holds the space" for parties to exchange information, learn about each other's positions and underlying interests, and hopefully meet their interests to resolve a specific, discrete conflict. In the most effective mediations, however, the mediator holds the space for deep listening, mutual understanding, and a potential transformation in how the participants see and relate to one another. This approach is fundamental to EP's dialogue model, where the facilitation sets the stage for a much longer-term shift in the way people navigate disagreements, differences, and conflict. 
From my own experience as a facilitator of Essential Partners dialogues and in working alongside EP, I have seen the transformation that is possible by applying EP's approach.
Where power imbalances and a lack of trust may exist—perhaps due to longstanding tensions around bias—EP's practice of opening discussions with interpersonal connecting exercises can defuse some of that mistrust. Actively facilitating responses to thought-provoking questions while managing the time each person has for a response also levels the playing field, creating a feeling of equity in the conversation. 
More than just deploying these techniques themselves, EP trains their clients and partners to use them on their own. Building these types of sustainable, scalable practices into the culture of a workplace or institution makes long-term transformation much more likely.  
Equipping organizations to hold a space for meaningful, open dialogue about DEI concerns and hopes is a key step for any group's efforts to build a more open, inclusive, diverse community. I am so glad that Essential Partners exists as a resource and leader in doing just that.
Audrey Lee is a Senior Mediator and Institute Executive Director at Boston Law Collaborative, LLC, and has collaborated on several projects with Essential Partners.