PRESS RELEASE: Essential Partners Receives $25,000 Grant for Police / Community Dialogues in Raleigh-Durham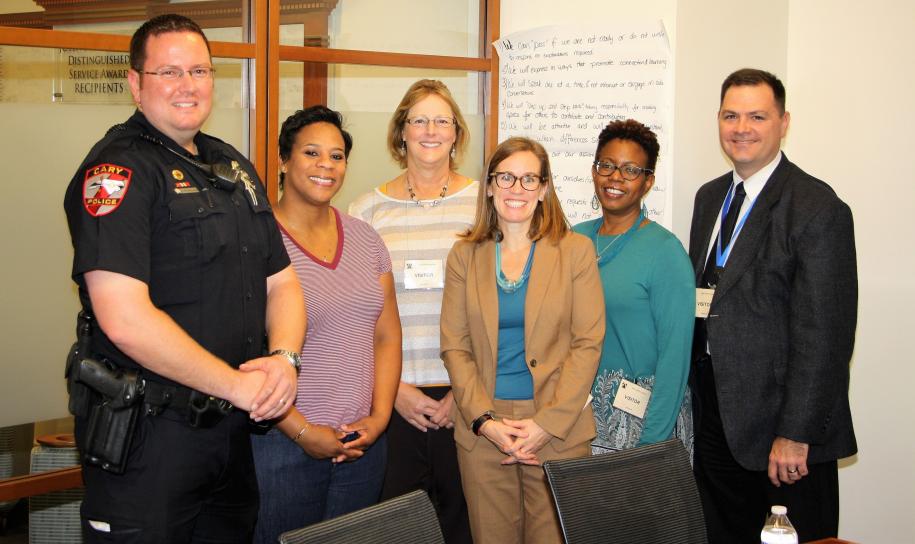 "As a black mother, I participated because I want to save my son from harm, and I feared for our safety. I no longer have that fear—just a belief that my community is stronger and there are honest police officers who care about me and my son."
Pilot dialogue participant
Raleigh, NC - Essential Partners (EP) has been awarded a two-year, $25,000 grant from the American Arbitration Association-International Centre for Dispute Resolution Foundation (AAA-ICDR Foundation) to support dialogues between law enforcement and communities of color in the Raleigh-Durham area.
Essential Partners will train twenty dialogue facilitators based in the local community and equip them with guides to support resident engagement and crisis response. EP will also provide coaching and consultation to support new police-community dialogues in the Raleigh-Durham area, with the goal of involving as many as 500 residents and officers.
Kate Deiter-Maradei, a mediator based in Raleigh, has led this project working with a coalition of area residents and law enforcement officers in collaboration with Essential Partners since 2016, when she first reached out to EP for support.
Essential Partners has since trained 22 local facilitators who engaged residents and officers through a pilot dialogue series.
One participant in that pilot dialogue series said: "As a black mother, I participated because I want to save my son from harm, and I feared for our safety. I no longer have that fear—just a belief that my community is stronger and there are honest police officers who care about me and my son."
The police officers involved in the pilot dialogues spoke of forging new connections with citizens. They said these EP-designed public dialogues supported stronger community relationships in a new way.
"Kate and her amazing crew of volunteer facilitators are some of the most dedicated and courageous folks I have ever had the honor or working with," said John Sarrouf, Essential Partners co-Executive Director.
For thirty years, Essential Partners has helped communities address polarized conflicts driven by differences in values, views, and identities. Headquartered in Cambridge, MA, the nonprofit organization works around the globe on issues such as the Syrian refugee crisis, violent extremism, campus free speech, and abortion.
Established in 2015, The American Arbitration Association-International Centre for Dispute Resolution Foundation funds domestic and international projects. It's goal is to expand the use of alternative dispute resolution (ADR), improving the process, increasing access to ADR for those who cannot afford it, and sharing knowledge across different cultures.
Press Contact
Daniel Evans Pritchard
Essential Partners
daniel@whatisessential.org
617-923-1216, x 24
Photo by Bob Friedman. L-R: J. Morgan, K. Christian, S.Pruitt, K. Deiter-Maradei, M. Williams-Stover, and E. Goodwin.