PRESS RELEASE: Essential Partners Launches Website Focused on Dialogue in Higher Education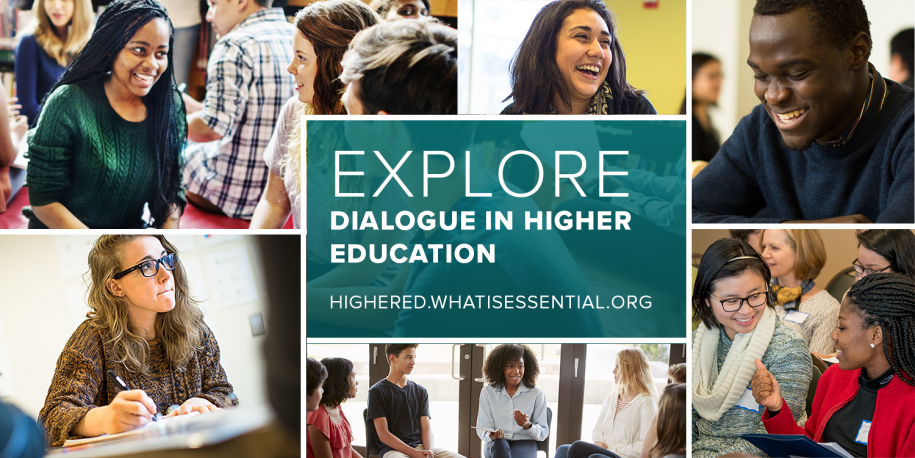 FOR IMMEDIATE RELEASE
Cambridge, MA - Essential Partners (EP), a global leader in dialogue across polarized differences of identities, values, and views, has launched a new website that supports the application of its framework to higher education classrooms and campuses.
More information can be found at highered.whatisessential.org.
"We want to help colleges and universities answer two urgent questions," said John Sarrouf, Essential Partners Director of Program Development. "How do we help these students, these future leaders, develop strong convictions while remaining open to divergent views? And how do we foster a cohesive, inclusive, open campus community with so many diverse stakeholders?"
The higher education website highlights Essential Partners' three decades of experience working with students, faculty, and administrators to transform campus conflicts around divisive issues like gender dynamics, racial diversity, and immigration. It also represents the culmination of a multi-year project to adapt EP's approach to higher education teaching in particular.
EP's new pedagogical framework, The Dialogic Classroom, equips instructors to lead more open, honest, and civil classroom conversations about polarizing issues.
The website will support Dialogic Classroom instructors with an expanding library of exercises, guides, worksheets, syllabi, and more. The resource library will serve as one arm of an EP alumni community of practice that also comprises peer networking, expert consultation, and exclusive skill-development opportunities.
This project was made possible through the support of a grant from the John Templeton Foundation and the University of Connecticut's Humility & Conviction in Public Life initiative. Six faculty members from four campuses—Southern Methodist University (TX), Tufts University (MA), Bridgewater College (VA), and Gordon College (MA)—collaborated with Essential Partners on the development of its Dialogic Classroom approach.
The higher education website is the first stage in a larger re-imagining of how Essential Partners uses digital tools to pursue its mission and support its global community of practice. Look for more as EP celebrates its thirtieth anniversary this fall.
Media Contact
Daniel Evans Pritchard
Director of Strategic Communications
daniel@whatisessential.org
617-923-1216 ext.24