Dayton International Peace Museum to Host Virtual Dialogue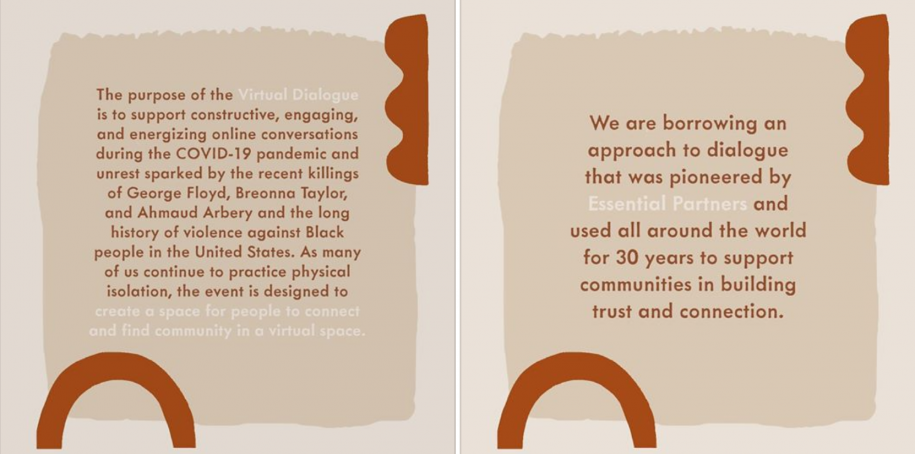 In late March, Essential Partners launched a series of virtual dialogues to help people have meaningful, connective conversations about the challenges of the COVID-19 pandemic.
Hundreds of people joined us, from as far away as California, London, and Lebanon. Those participants were eager to bring the EP model back to their own community. We quickly crafted a set of resources—including dialogue scripts, guides, and handouts—and made them available to members of our global community of practice.
Dozens of virtual dialogues have taken place since then at high schools and colleges, within faith communities and nonprofits. I want to tell you about one that's coming up.
On Monday, June 8 at 7:00 PM Eastern Time, the Dayton International Peace Museum will host a virtual dialogue "to support constructive, engaging, and energizing online conversations during the COVID-19 pandemic and unrest sparked by the recent killings of George Floyd, Breonna Taylor, and Ahmaud Arbery and the long history of violence against Black people in the United States."
You can read the full description and find complete details online. The deadline to register is Monday at noon.
Essential Partners is humbled to serve as a thought partner and a resource for those who do the hard work of building community. We envision a world of thriving communities strengthened by difference, connected by trust.
If you're interested in leading virtual dialogues in your own community or organization, contact us to schedule a free consultation.