Beyond Civility: Empowering high school students in Arkansas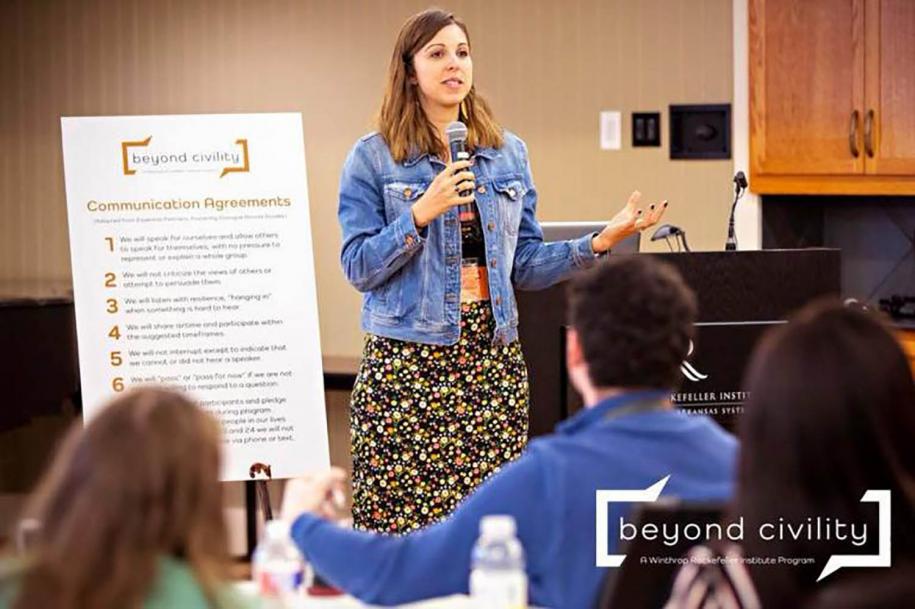 Katie Hyten, EP's Director of Program Operations, recently joined the Winthrop Rockefeller Institute (WRI) for Beyond Civility: Empowering students with the tools to dialogue across differences. Katie led a dialogue in a diverse group of 40 high school students from across Arkansas. Janet Harris writes about the program at the WRI blog:
Tension was evident as the young people gathered in the Institute's Show Barn Hall. They knew they were coming to the mountain to talk to one another across differences and that they would be discussing race relations. They, like most people, feared what might be said and what kind of conflict might arise. Before coming to Beyond Civility, they weren't sure how to have these kinds of conversations.
They have a better idea of how to do that, now.
[…]
These young men and women talked at length about civility. They learned what happens to our bodies and brains when we engage in a disagreement with the "other." They also learned techniques to reverse the vicious cycle of fighting, fleeing or freezing and to instead take a breath, listen, and ask questions.
By the end of the program, we asked them what they noticed.
"People opened up."
"We could relate to each other."
"We shared viewpoints."
"We talked about stuff that was hard to talk about."
"Our conversations went smoothly. There weren't any heated arguments."
"I thought I communicated effectively, but I realized there are ways I can do better."
"We were able to share our opinions without fear. And we found more similarities than differences in our group."
"My facilitator was very sweet, very open. I was made comfortable to share my experiences."
"Everyone's belief is rooted in their experience. I've learned [from this program] to ask 'why' more often to try to understand people that I disagree with."
Read the rest of Harris's reflection at the WRI website.
Interested in having EP come to your communtiy? Click here to get started.